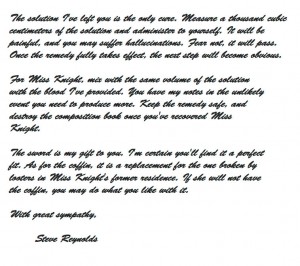 Sitting on a stool at the bar, Nine examined the handwritten letter from Steve Reynolds while Peter stood beside her leaning on the end of the bar. He watched her brow furrow, the way her nose scrunched when she concentrated. Cute. Her eyes shot back to the top of the page, and she read the message again.
Peter grabbed the bottle of wine, and refilled their glasses. The wine wasn't from his sister's vineyard, a cheaper brand from the warmer end of the valley, but it tasted fine.
Nine stayed late nearly every night to clean up and keep him company. He appreciated her help, but more than anything he enjoyed being near her. And the kiss the other night. A quick peck, but he couldn't stop thinking about it.
"This Reynolds guy seems like a slippery one," said Nine. She set the letter down, and gazed at Peter. "So the coffin, the guns, the packs of blood, it all belongs to this Kandy Knight. And you're supposed to find her and help her. Is that it?"
Peter shrugged, and then nodded.
"And what about that powder we inhaled? This letter doesn't mention it."
"That's what bothers me, too. It's almost as if the coffin was rigged to release the powder so that the person opening it would breathe it in."
"You, Peter," said Nine. She held her head in her hands. "Reynolds wanted you to inhale that shit. Do you suppose that's what he meant about a cure? Are we supposed to take that serum to cure whatever that powder infected us with?"
Slipping off the stool, Nine wrapped her arms around Peter and hugged him tight.
"We both feel fine," said Peter. Squeezing her felt like sunshine melting frost. "Shouldn't we feel sick if he wanted to encourage us to take his cure? We could just ignore it all."
"But we can't," said Nine. She looked up him, her eyes intense. "You're in his debt now for the expensive sword and the car, even. We should try to find Kandy Knight. Maybe she's the only one that needs the serum."
Peter kissed Nine. He hadn't intended to; it just happened. On the corner of her mouth, his smooch was practically a friendly gesture. Although her body pressing close felt dangerous, and she kissed him back, full on. Gaze locked on hers, unspoken word passed between them. Upstairs?
Peter released Nine and took a big gulp of wine, the sharp scent filling his nose.
"It's getting late," said Nine.
"What about the serum? Do you think we should take it just in case?"
Nine shook her head. "The letter doesn't give us a timeline. I think we should find Kandy first and work this out with her."