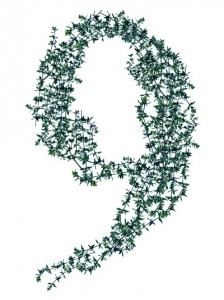 Her smile, teeth barely visible, held a well-worn appearance just shy of the natural side. And spooky. Something about her, maybe the way her emerald eyes caught the light, felt a shade creepy. Her dark hair, black as a raven and wavy, framed those orbs like a pretty picture. A beautiful, spooky gal, that was Nine Thyme in a nutshell.
Of course, Peter had to admit the spooky side had more to do with her being the daughter of a third generation funeral home owner. Her extensive knowledge of caskets and coffins, including comfort levels, could put the willies into just about anyone. She'd be popular at Goth nightclubs, though.
For the job interview, Peter had asked Nine to help with Hallowe'en decorations. She had shot him some quirky remark about free labor along with a teasing grin. He wasn't comfortable sitting at a table and watching someone. He preferred staying busy. Besides, too many tasks needed finishing for opening day.
While hanging fake webbing with giant rubber spiders on the wall, Nine recited her work history. It wasn't much; cashier at a quickie mart, a very short stint as a catalog model, package handler at UPS, and, of course, she helped her father in the family business, which was oddly named, Old Thyme Funeral Home. Her sharp attire met the old man's expectations, but her work experience came up short. She needed more zing to pass the old man's tests, but Peter needed bodies. All of this barely tracked across his mind, though, and instead of digging deeper he asked about her name.