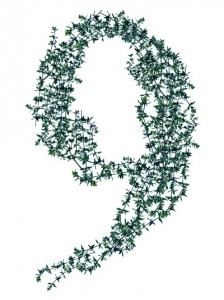 "So, that creepy old guy was human?" said Nine Thyme. She scratched at the white cloth bandaged on the inside of her arm just above her wrist. The tattoo had hurt for a bit, but now it itched. With the protective cloth over it, she couldn't quite scratch, just rub at it, which she was warned not to do.
At the table, sitting adjacent to Nine, Augustus stared at his half-empty mug of coffee. He wore all black, always black tie with a black shirt, for as long as Nine could remember. It seemed fitting for a mortician, but he hadn't always dressed for the part. He started wearing only black in the days after that night at Pine Mountain Tavern. In mourning for his lost son, according to him, anyway. Nine felt certain there was more to it. He couldn't still be mourning after all these many years. Black suited him well. Her grandfather continued staring at the mug with that intense gaze of his.
He would do this sometimes in the middle of a story, dive deep into his thoughts. Telling this tale was difficult for him, and Nine didn't want to rush him. She already knew about Jonathan Villeneuve. Not that Augustus had killed him, but about Villeneuve being employed by Vampire Thyme. It was part of her studies her grandfather had set her on in the last week. Fifty-two years ago, Villeneuve had been a mortician for Thyme Funeral Services, a run-down establishment in Bend. Even with the family name in common, her grandfather had never heard of it. Very few had known about it. Unlike their own family business, Thyme Funeral Home in Roseland was actually fairly popular. For a funeral service, anyway.
The old man didn't appear ready to go on just yet, so Nine grabbed his mug and stepped over to the kitchen counter to fetch more coffee from the pot. She returned and set the mug in the same spot so the old man didn't miss it. He continued staring at the mug as if it had never moved, but now Nine could see a troubling darkness in his eyes. There was something more about his story he wasn't telling, or something much darker yet to come. It was always hard to tell with Augustus. Sitting so still like that, he could have died and nobody would have been the wiser until checking his pulse, something she had tried before, but had learned touching him in his state could spook the old timer. He looked great for a ninety-three year-old man, better than most seventy year-olds, but he also appeared as fragile.
"What about the police?" said Nine. She rubbed at the dressing on her arm, but her flesh continued itching.
"I waited for the police to show for a week," said Augustus. He slipped the hook of his cane from his arm and tapped the floor twice. Another quirk of his. "They never did, and I suspected Vampire Thyme had something to do with that."
"That was when you decided to start studying," said Nine. Her guess was based on other tidbits she had picked up over the years, listening to various stories.